Posted by Jim Strong on Apr 18th 2021
If you're in the market for a replacement final drive motor, we'd like to encourage you to consider one of our reman final drive motors. In this Shop Talk Blog post, we'll tell you about the 10-step reman process that sets our final drives apart from other rebuilt final drives.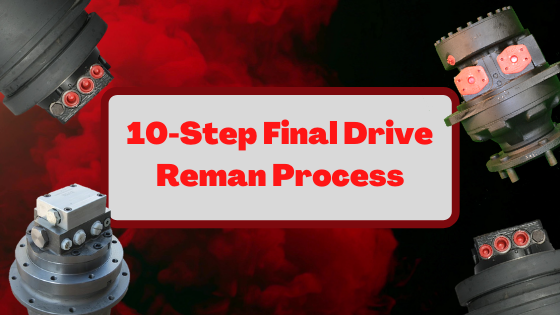 ---
Here are a few other Shop Talk Blog posts you might find useful:
---
Step #1: Receive the Core
The first step in the process occurs when we receive a core. Note that smaller cores are usually shipped in foam-filled boxes or wooden crates and larger cores arrives in crates or on pallets. When we receive a core, we log it into our system.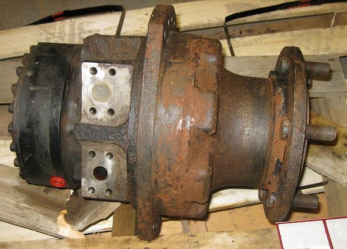 Step #2: Prep the Core
Once the core is in our system, we prepare it for disassembly. As you no doubt already know, final drives are usually covered in hardened material that has built up over time. This hardened material consists of dried mud, clay, and other debris encountered on a typical worksite. The bulk of this material is removed using a needle scaler.
Step #3: Wash the Core
Once the hardened material has been removed, the core is placed in a steam wash cabinet to eliminate remaining debris, degrease, and wash the exterior thoroughly. This brings the core closer to disassembly, but there's one more step left.
Step #4: Perform Abrasive Cleaning
Before the final drive core is ready to open up, it will also go through sandblasting as the final cleaning step. By the time this step is complete, the exterior of the final drive motor is down to the metal with no scaling, grease, or paint left behind.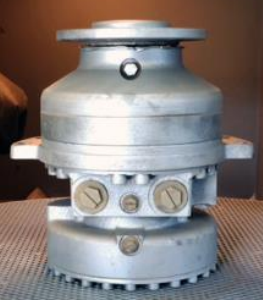 Step #5: Disassembly
Once the exterior has been completely stripped, disassembly begins. The core is thoroughly evaluated to determine what caused it to fail. In addition, certain parts are automatically discarded to ensure they are always replaced with new ones.
Step #6: Parts Cleaning
Final drive cleaning still isn't finished yet! The parts are all thoroughly cleaned so their condition can be accurately evaluated. Some final drive parts are run through a high-powered parts washer while others are cleaned manually to remove rust or scaling. By the time this step is complete, the final drive has been cleaned and degreased inside and out.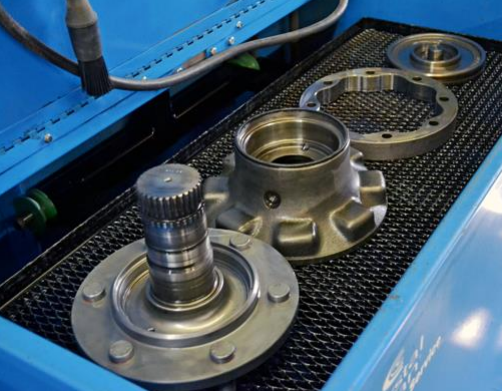 Step #7: Transfer and Assembly
Once the parts are clean, our technicians carefully examine each one to determine if it is suitable for reuse as is, needs some work to be reusable, or should simply be replaced (such as seals, which we always replace). What the technicians look for depends on the type of part they are looking at. If they are looking at a set of planetary gears, for example, they would check the condition of the gear teeth to look for cracks or excessive wear. For a cam ring, they look for signs of abrasion or scarring.
After the parts have been evaluated and replaced as needed, the final drive core is fully reassembled and ready for quality testing. And great care is taken during assembly to ensure proper alignment, torque, etc. We even use Loctite on some of the fasteners.

Step #8: Quality Control
At this point, the reman final drive motors head over to quality control. Here, they are subjected to pneumatic leak detection, calibration inspection, and hydraulic performance testing. Hydraulic performance testing includes RPM performance, brake engage and release pressure, lead test, idle test, case drain flow, and dual-speed performance (for two-speed final drives).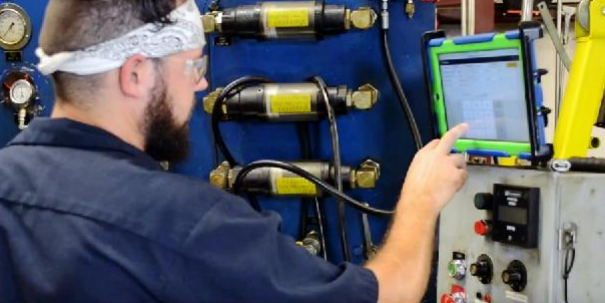 The results of each of these tests are documented in real-time to ensure traceability. If a final drive doesn't pass the test, it is sent back for troubleshooting. Only drive motors that successfully complete all the quality control tests proceed to the next step.
Step #9: Painting
Once a core has passed all the quality control tests, we do one more external wash and then repaint it. This way, it doesn't just run like a new motor but it looks like one, too.
Step #10: Packaging
Once the paint is dry, the core is ready to send out. We package them up carefully so they won't be damaged during shipping and send them to our customers.
Conclusion
If you are in the market for a replacement final drive, reman final drives from Final Drive Parts meet or exceed OEM specifications and come with a one-year warranty. Give us a call today to find out more about the reman drive motors we offer!
---