$2,100 Rebuild*
*Core charge is not included
Are you looking for these motors?
Bobcat P/N 6690156 track drive motor (fits 864, T200, T250, T300 and T320)
Bobcat P/N 6698328 single speed hydraulic drive motor
Bobcat P/N 6680250 track drive motor (fits 864, T200, T250, T300 and T320)
Bobcat P/N 7109868 track drive motor (fits 864, T200, T250, T300 and T320)
It's not always easy to figure out exactly what final drive you have. The guidelines below will help you correctly identify your T300 final drive.
Identifying a T300 Final Drive
It can be quite tricky sometimes to correctly identify the type of T300 final drive you have. Please check this carefully as you will be responsible for proper identification of your motor and any additional shipping charges if the wrong motor is shipped out.
If You Don't See the Final Drive You Need Call Us Now at: 888-934-6257 or Email Us Through the Form Below
Short Nose or Long Nose T200, T250, T300, T320 864?
Sometimes it's difficult to tell if you have a short nose or long nose final drive. This guide should help you get that figured out. Be sure to choose carefully — you will be responsible for any return shipping charges for wrong verification. The information in this section should help you differentiate between the long nose and short nose final drives.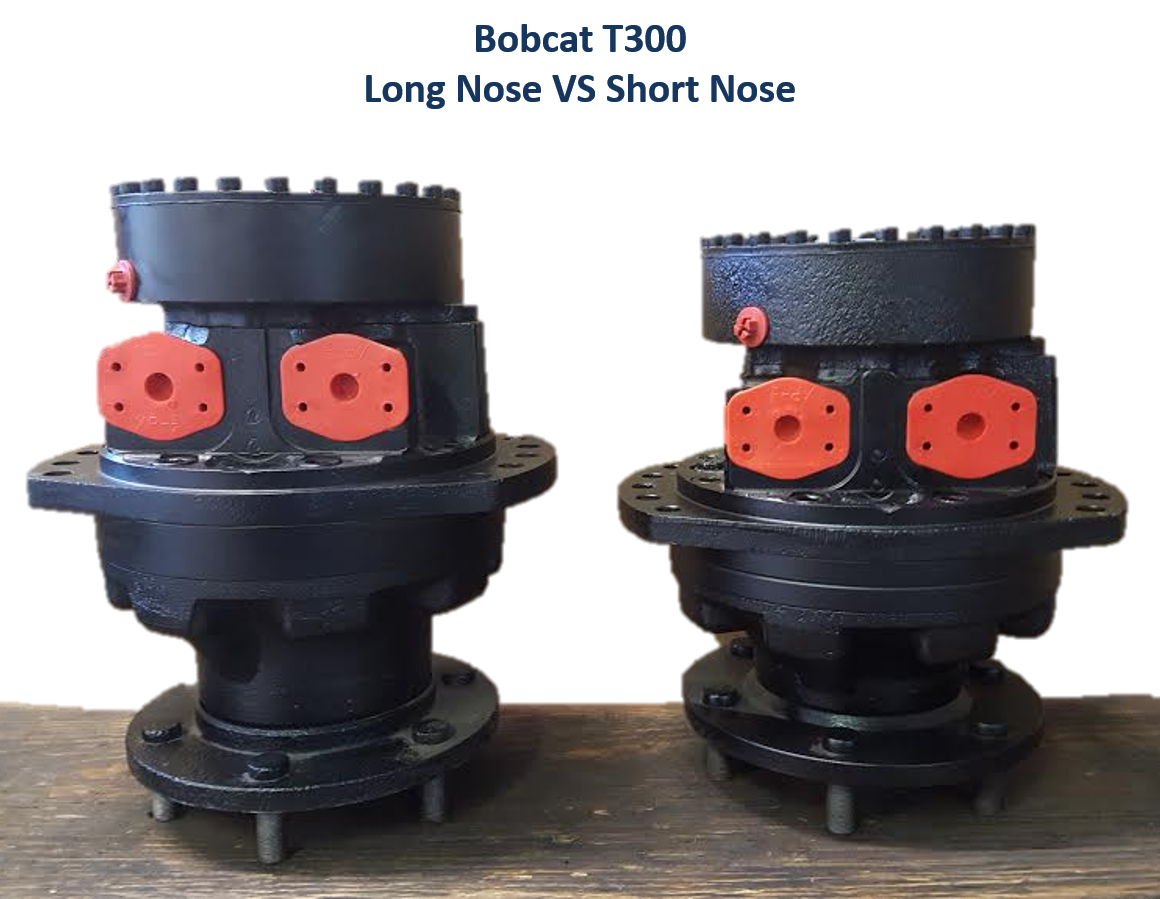 Measuring the Distance between Flanges
This is the best way to identify whether you have a long nose or short nose drive: look at the distance from the top of the center mounting flange to the top of the sprocket flange. For a long nose, this distance will be around 7″, but for a short nose it will be about 5 1/2″.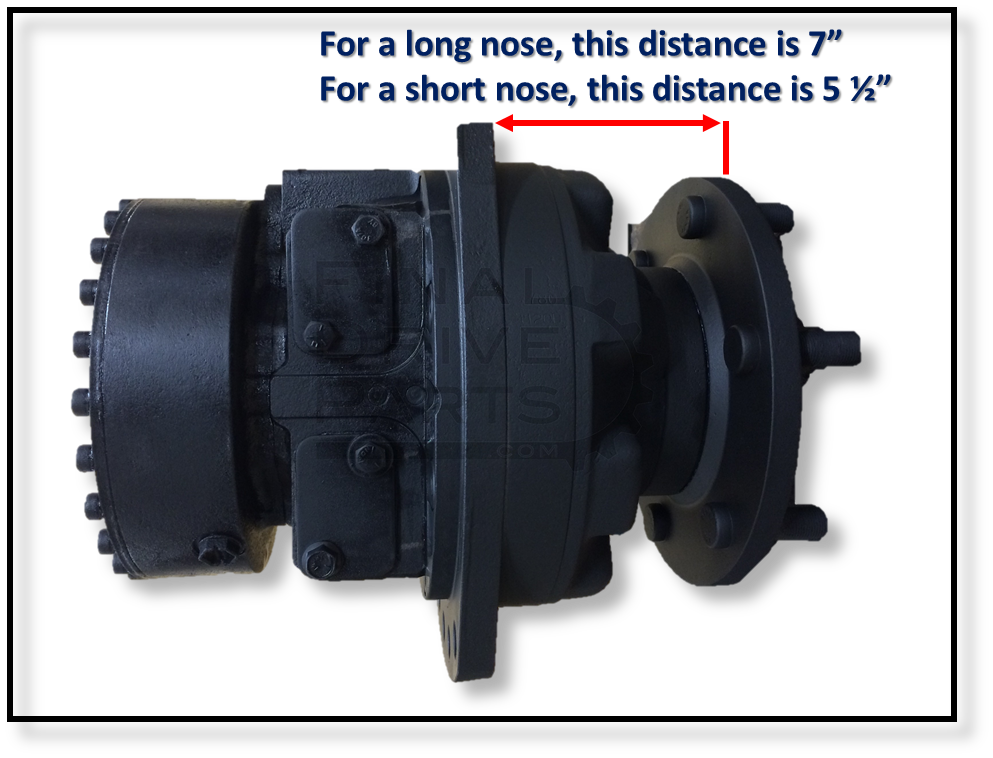 Here's another way to determine if you have a long nose or short nose by measuring the depth of the sprocket: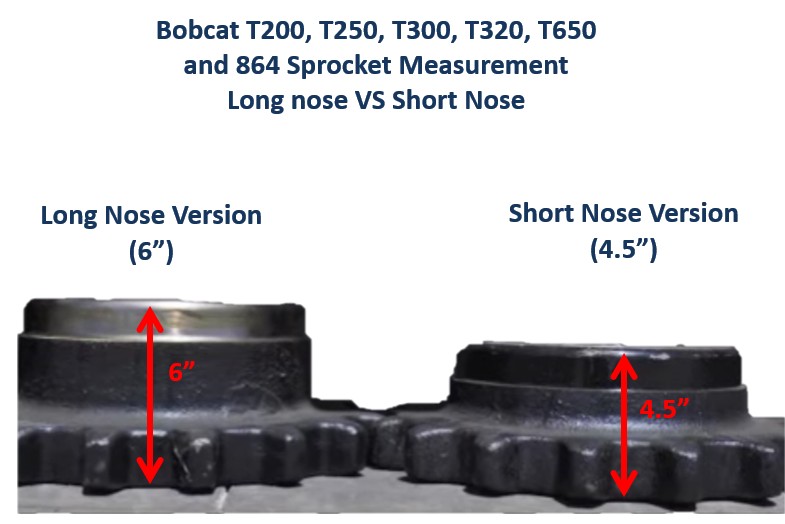 OUR GUARANTEES
Final Drive Quality

We keep thousands of parts in stock at our shop and focus on using only the highest quality parts on the market. Since we specialize in rebuilding and re-manufacturing final drives, we have them running better than when they were brand new. Our repairs and rebuilds are reliable.

Final Drive Warranty

We stand behind our quality workmanship with best-in-class warranties for the industry. All our products including parts, gears, and rebuilds come with a 1 year warranty. In addition, we offer a 2 year warranty on all new final drives and travel motors we sell.

Final Drive Service

Our staff is well-trained, informed, and experienced – experts that take pride in their work and thrive on challenges. They are happy to answer questions both before and after the sale – before things go wrong they are there.
TESTIMONIALS
Hitachi Final Drive Motor

"The best price for a whole unit that I found was at Woodlands Fluid power in Texas. Very helpful parts man and everything worked out very well."

— EricB on Hitachi Final Drive Motor Yesterday's Tractor Company Forum
Kubota motor D662-E 19 HP Full Engine

"Smooth transaction. Great persons behind this company!!!…..Thanks!"

— d***i purchaser on EBay
Bobcat Travel Motor Pressure Relief Valve Block

"Worked great! Much better than the local bobcat dealer."

— i***6 purchaser on EBay
Komatsu PC50 Final Drive Motor

"Travis, not sure that there was a mix-up at all…you caring and taking the time to ensure that I was getting what I needed, is a customer service that is rare these days. Thank you very much for contacting me and working with me to ensure that my order is correct."

— t...w purchaser on EBay