Your final drive motors aren't cheap, and neither is the equipment they power. When your drive motors or track drives go down, you need quality, reliable repairs. But how can you tell a good repair shop from a bad repair shop?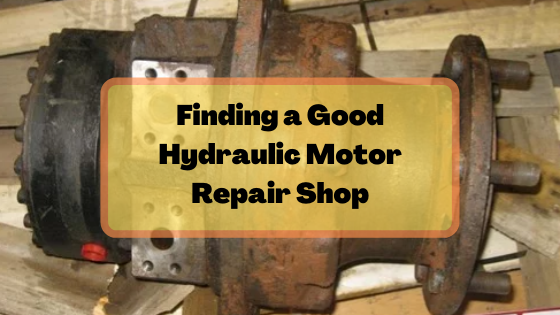 Hydraulic Motor Repairs
There is more to a good final drive motor repair shop than getting those repairs done as quickly as possible. What else is important? Read on to find out!
Addressing all the Issues
You may have sent your hydraulic drive motor in for repairs because you noticed it leaking gear oil and the gear oil levels have been running pretty low. While the technician has your final drive motor disassembled, they happen to notice the bearings are in pretty bad shape and will need replacement sooner rather than later. In the long haul, it would be chapter to get those bearings replaced while your drive motor is already in for service. This will save you the cost of a separate repair job and the downtime later on when the bearings do give out -- and they'll probably go out at a very inconvenient time.
However, if the hydraulic repair shop's goal is to just get the motor fixed and out as soon as possible, then the problem with the bearings would likely be overlooked.
Honesty
You need a hydraulic repair shop that is going to be honest with you, and that includes giving you a heads up if they don't find anything wrong with your final drive. Sometimes there can be external issues that make a final drive seem like its running weak, such as a bad adjustment on the track tension of your mini-excavator or a worn out charge pump that isn't completely releasing the drive motor brakes.
A good repair shop will be honest when they don't find anything major wrong with your final drive motors.
Quality Repairs
You may find a hydraulic repair shop that promises repairs at a fraction of what their competitors charge, BUT we all know there is more to a repair than just the cost. If that shop doesn't care about quality, then chances are you'll be sending more repairs their way than is really necessary. Repairs that don't last are expensive! And the same goes for the quality of parts they use in the repairs. With hydraulic replacement parts, you often get exactly what you pay for.
A good final drive repair shop will only source and install durable parts that will last.
Testing
No final drive motor repair is finished until it has been thoroughly tested for functionality, performance, and leaks. A good hydraulic repair vendor will not send you drive back as repaired until they have verified the quality of those repairs through careful, documented testing.
A good final drive repair shop will keep working on your final drive until it passes all the tests.
Conclusion
At Final Drive Parts, our team is committed to quality. That commitment begins from the time we disassemble your drive motor to diagnose it. We'll be honest with you when we don't find anything wrong, and we'll give you a heads up when we find a potential source of impending failure. You can count on the fact that all repairs are performed by experienced technicians and repair is not considered complete until it has passed our battery of tests.