Posted by Jim Strong on Jun 15th 2021
As an equipment operator, do you know the signs that a final drive needs to be serviced?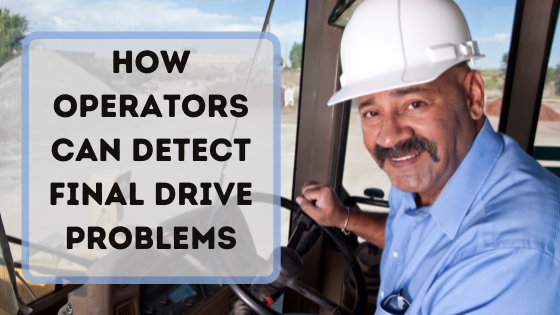 ---
Here are a few other Shop Talk blog posts you might find helpful:
---
You don't have to be a heavy equipment technician to know when something is going wrong with your equipment. As an operator, you know how the equipment should respond, sound, feel, and sound. That means you're at the front line of keeping the final drives on skid steer loaders, compact track loaders, compact excavators, and other types of compact equipment running. And here are some specific things to look out for.
Unusual Noises or Vibrations
You expect noise and vibration with construction equipment. But if you notice something new start with your final drives, that can be a sign of problems. From grinding noises to high-pitched squeals, unusual sounds point to potentials issues. And many times those potential issues can be leading to catastrophic failure. Worn-out bearings, weak charge pumps, and similar issues can lead to odd noises and excessive vibration. Taking the time to address the cause of these signs can save you from even more expensive repairs and unscheduled downtime.
Changes in Performance
You've worked with this machine for a long time now, and you know the performance isn't the same. There are several ways that a change in performance shows up:
A task you've done a thousand times is taking longer than it used to
Your mini excavator can't make it up those inclines as fast
Your SSL or CTL barely crawls, even on flat ground, when you've got a load in the bucket
Your compact equipment is not as responsive to motion controls (forward, backward, turning) as it used to be
These can all be a sign of general wear in your hydraulic components, including your final drive. If this happens, it is likely a good time to check for signs of wear. If you can pick up on the wear before it gets too bad, you may be able to prevent some costly downtime.
Leaks
Leaks are never good, and as an operator, you'd be one of the first to notice them. As we've said before on our Shop Talk blogs, if fluid can get out then contamination can get in. And fluid levels can become low over time, which is especially dangerous if the leak is gear oil.
The fluid coming out of your final drive is either going to be gear oil or hydraulic fluid. Gear oil is thicker than hydraulic fluid and there isn't as much of it to leak out. That means a significant amount of thin fluid points to a leak on the planetary side.
Leaks need to be addressed as soon as they can, and if you can catch them quickly they usually just involve changing out a seal. Ignoring them, however, can lead to damage to your final drive that can't be repaired.
Conclusion
Just by noticing things like new vibration or noises coming, changes in performance, or evidence of leaks, you can help extend the life of your drive motors and prevent expensive, unscheduled downtime--as well as costly repairs. And if you do notice issues, you can contact us here at Final Drive Parts: 877-428-3401.
---