Posted by Jim Strong on Feb 11th 2022
Caterpillar recognizes the damage that hydraulic contamination can lead to, which is why they've dedicated videos and booklets to the subject. In this Shop Talk Blog post, we're going to quickly review what they have to say -- and how it can impact your final drive.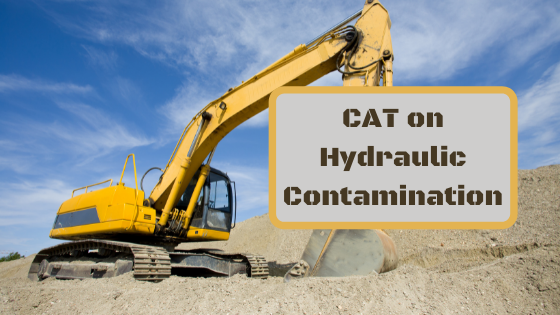 ---
Here are some of our other posts you might find helpful or informative:
---
Hydraulic Contamination Issues
So how does wear affect your hydraulic system, and more specifically, your final drive motors? CAT narrows it down to main sets of problems: reduced system efficiency and accelerated component wear. And keep in mind that contamination is the leading cause of failure in hydraulic systems.
Reductions in System Efficiency
Reductions in system efficiency can be hard to detect until they've become severe. According to the Cat Hydraulic Systems Management Guide, efficiency losses usually reach between 16% to 20% before you notice a loss in performance. Because losses can be hard to detect, it also means that it takes longer for you to get your work done. And you'll likely see an increase in fuel consumption as well, which can become problematic with the costs associated with fuel.
Your final drives keep your equipment moving, whether it's on a CAT skid steer loader or medium excavator. When contamination affects system efficiency, it also means that it will take longer for your machine to travel on the worksite, including making it up inclines and carrying loads. It will also take more fuel to accomplish tasks, which raises the operating costs of your equipment.
Accelerated Component Wear
Accelerated component wear is another major issue that arises from hydraulic wear. And with modern machines, including CAT, the clearances in the hydraulic systems are extremely small. So abrasive particles that are too small to see with the naked eye can wreak havoc with your final drive motors and pumps.
When parts in your final drive motor wear out sooner than they should, that leads to additional (and possibly unnecessary) maintenance and repair costs. And suppose you don't replace those worn-out parts. In that case, they can generate even more particle contamination that leads to a devastating domino effect. Add to all of this the costly downtime involved. It quickly becomes evident that having components wear out too soon can be expensive.
Other Issues
When accelerated component wear and system inefficiencies develop, it leads to a loss in productivity and unplanned, costly downtime. Hydraulic contamination can potentially result in erratic operation, catastrophic failure, and higher operating costs.
Minimizing Contamination According to Caterpillar
How can you minimize contamination to avoid the issues we just discussed? Here's a list of some of their recommendations.
Keep your shop clean: if you have a dedicated area where you open up your machine hydraulics, take some time to keep it free of potential contaminants.
Store your hydraulic fluid inside, away from extreme temperatures, rain, and dust
Use tight-fitting covers for the fluid you store in barrels.
Invest in high-quality hydraulic fluid -- the type your grandfather may have used on his tractor isn't clean enough for modern CAT equipment.
Change your hydraulic filters at least every 500 hours and replace them with high-quality filters.
Monitor the temperature of your hydraulic fluid to ensure it isn't running hot
Don't let the hoses and connectors lie on a dirty floor when removing a component like a final drive.
Use caps and plugs on disconnected hydraulic hoses to block contamination from getting in.
Monitor hydraulic fluid levels so they don't fall too low.
Perform regular fluid analysis and testing, taking samples about every 500 hours, so you'll know what's going on inside your hydraulic system.
Don't ignore evidence of contamination.
Conclusion
At Final Drive Parts, we are all too familiar with the aftermath of hydraulic contamination -- and not just on CAT machines. If you have developed problems with your final drive motors, we can help you find a quality, competitively priced replacement with an excellent warranty. But we don't stop there -- we'll help you find out how to get that contamination under control!
---