Heavy Equipment Owners and Gray Market Machines
In legal terms, a gray market machine is imported into a market without the consent of the trademark holder. In layman's terms, it is a machine that was built for the overseas market but brought to North America, usually by private equipment dealers. There are other definitions, but this is the most common. In this blog post, we are going to talk about 4 things every heavy equipment owner should know about gray market machines.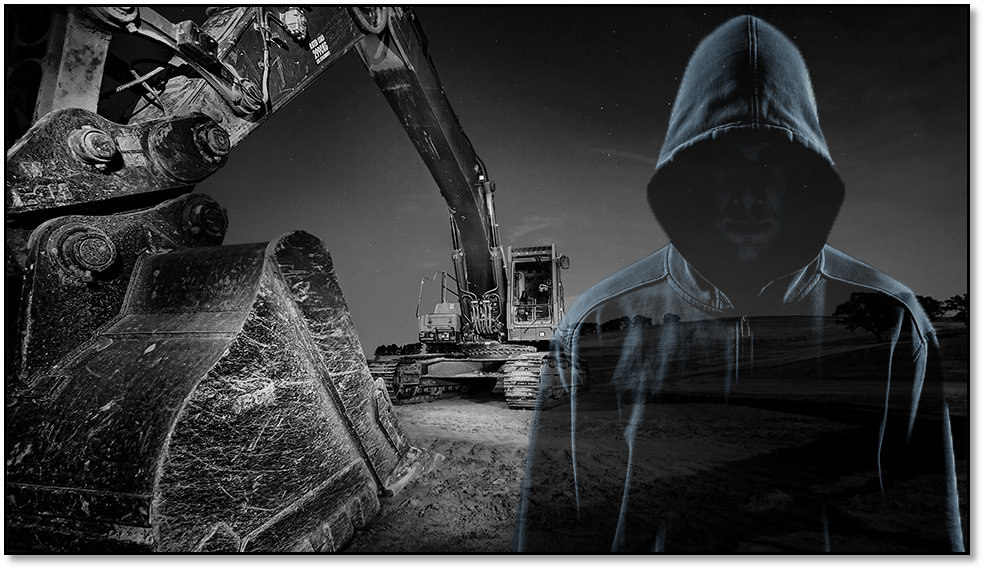 1. Repairs and replacement parts for gray market machines can be a nightmare
Gray market machines may have different parts, making it difficult to find replacements in a timely manner. They may have different engines or specifications, again adding complications to making repairs and finding replacement parts like final drives, undercarriage parts, rollers, sprockets, and more. The level of difference really depends on the manufacturer.
If something goes wrong, you will need to expect longer downtime just to find compatible parts. English language manuals may not be available for that specific machine, and it may be hard to find a technician when repairs are needed. In a worst-case scenario, you may have to order parts overseas for simple repairs.
The most common gray market machines we come across are Hitachi. Fortunately, Hitachi and John Deere communicate and cross reference, so some of the parts are interchangeable. However, interchangeability also varies according to the brand and the machine. The difficult part to find out which US machines are a good match.
2. Gray market machines may cost more in the long run
Some people purchase gray market machines hoping to save money while others purchase gray market machines to get the latest developments from other countries. In either case, you may have extended delays while waiting for replacement parts (which may have to be shipped from overseas), trying to find a technician who can work on it, or tracking down a user manual in English. Some dealers will outright refuse to work on gray market machines. And there are manufacturers, such as Kubota or Maruyama, will not provide service or support on gray market machines, so your machine may not be covered by US warranties.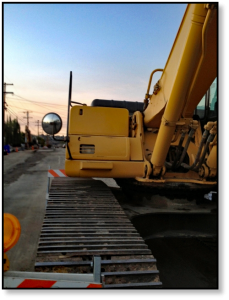 3. Gray market machines may not comply with US safety standards
There is no promise that a gray market machine will comply with US safety standards: they are made to comply with the standards for the country in which they are intended to be marketed, not the US. To make matters more interesting, safety warnings, labels, and even some gauges will most likely not be in English – and that can apply to all labels that appear on the machine. Safety equipment such as operator manuals and sea tbelts that are standard in the US market may not be present.
In addition, EPA stickers will not be present, which can be a problem in high regulated states like California. Gray market machines are not designed to meet US emissions standards.
4. Gray market machines may be a different color.
Gray market machines are usually a different paint color from the standard US market machine. Now this isn't a bad thing, of course, but if you are considering the purchase of a machine that is much, much cheaper than what you would expect then checking the paint color can be a good way to determine if it is a gray market machine.
A Komatsu might have purple paint job, or a Kubota mini-excavator might be turquoise instead of orange like the US market mini-excavator shown below. Some disreputable dealers might repaint the machine, so beware of chipped spots that reveal a different color of paint beneath.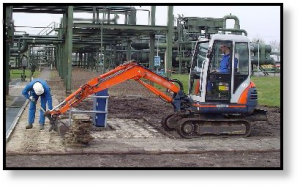 Conclusion: Gray Market Not Recommended!
Gray market machines are not recommended – not because the quality is lower, but because they were not developed for use in the US market. They may require parts from overseas, manuals and labels may not be in English, and they often end up costing more in the long run.